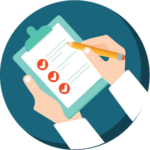 The main functions of the Department of assessment are:
Assessment of special educational needs of beneficiaries of The Center (hereinafter – Assessment) and provision of an assessment report.
Double assessment in accordance with the complaints submitted to The Center, as well as the provision of an assessment report.
Providing with support on the process of assessing the second level of Regional Centers of Educational and Psychological Assistance (hereinafter referred to as RCEPA).
Consultation on the use of the initial assessment tools in educational institutions.
Monitoring of the assessment process by the RCEPA.
Rewriting the database (hereinafter referred to as the Database), created by the National Center for Educational Technologies (hereinafter referred to as the NCЕT).
Organization and conducting of trainings about the Database management for specialists of RCEPA.
Data entry of those children, who were assessed by The Center.
Providing guidelines for the assessment process and on the tools that are used during the assessment.
Submission of suggestions and recommendations in the process of processing and reviewing forms and in organization of education for children with special educational needs.
Research, monitoring and analysis of the assessment process.