Within the framework of RA state budget for 2022 of the "Implementation of the Total Inclusive Education System" program.
The grant is intended in two directions: to provide pedagogical-psychological support services in the RA Tavush, Ararat, Vayots Dzor marzes and to provide measures to support the organization of education of children with SEN.
Source: RA MoESCS Official Webpage
PSYCHOLOGICAL CONSULTATION AND ASSISTANCE TO FAMILIES AFFECTED BY THE ARTSAKH WAR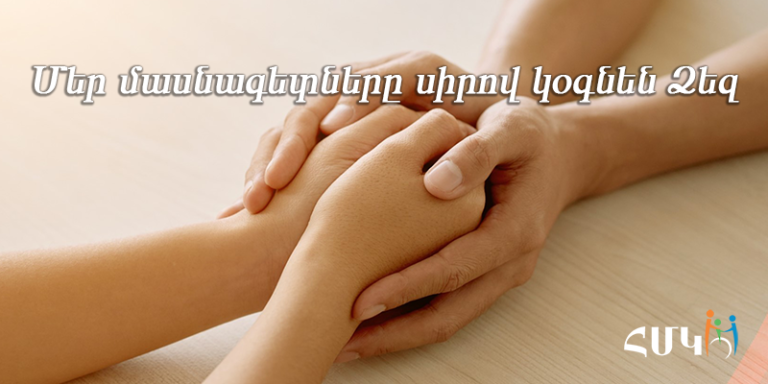 The Republican Pedagogical-Psychological Center provides psychological consultation and support to families affected by the Artsakh war.
For more information please contact us
Tel: +374 10 552495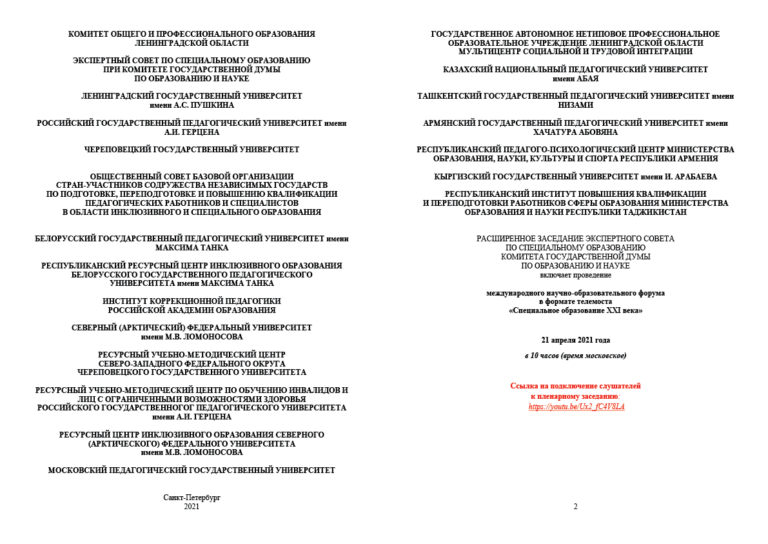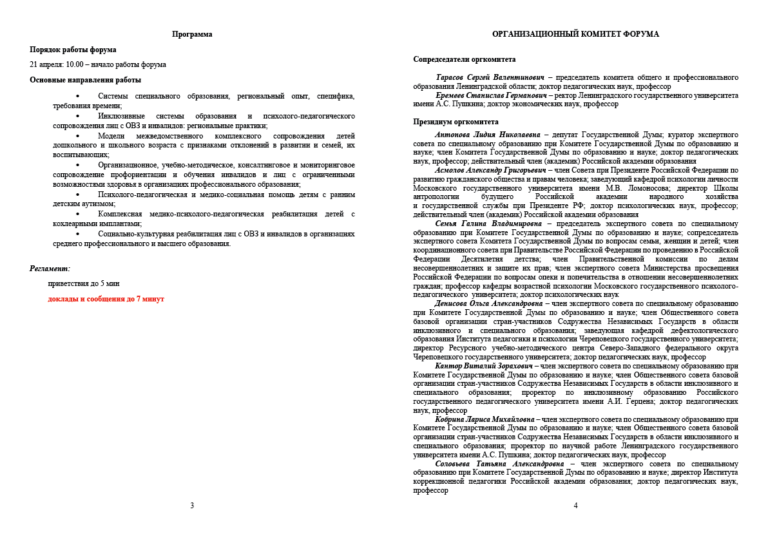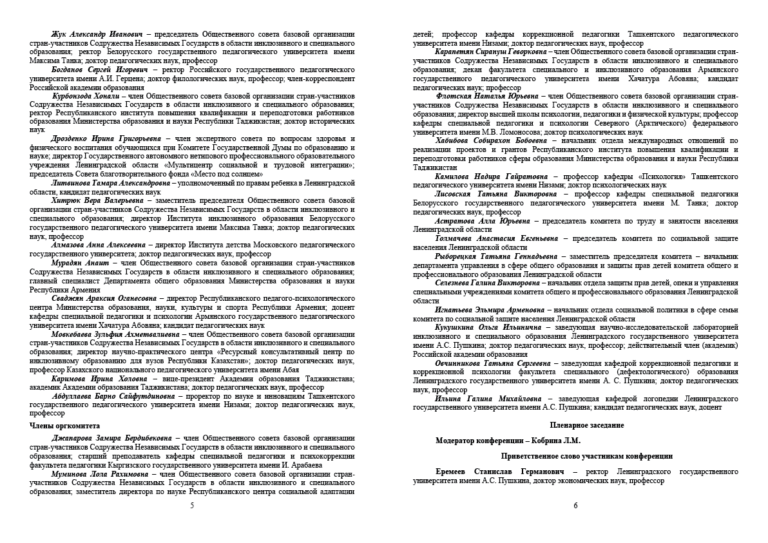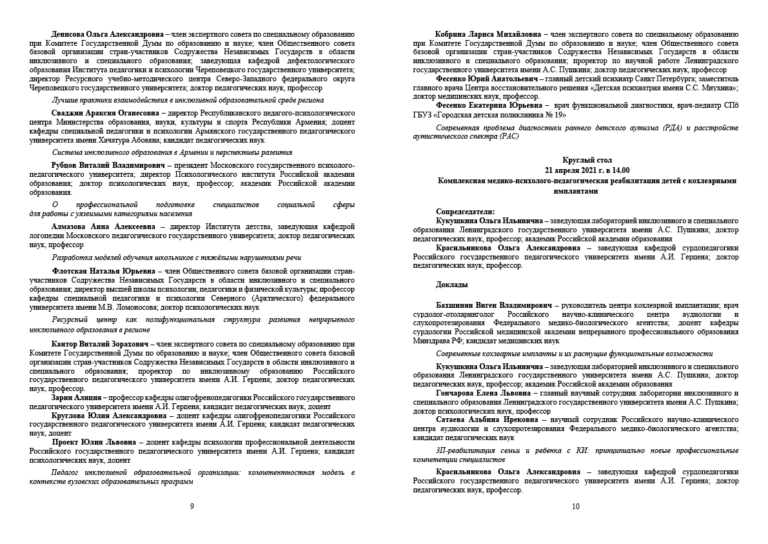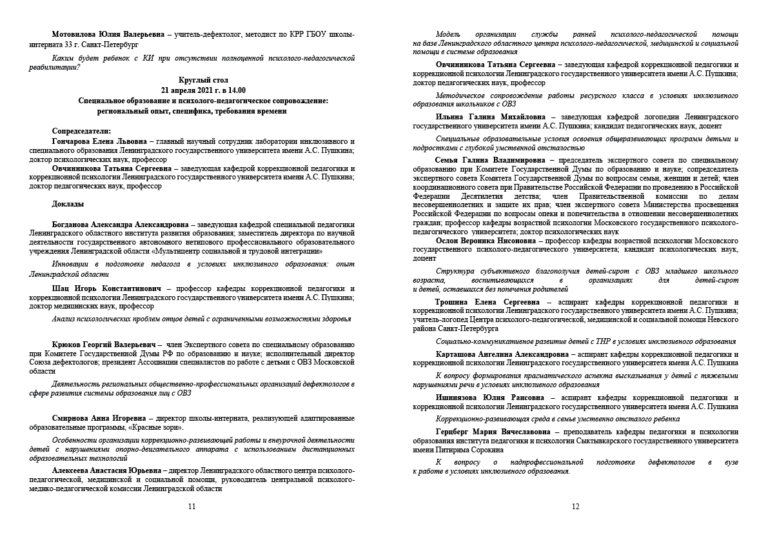 April 21

Hours: 11։00
Expanded meeting in teleconference format on topic "Special education of the XXI century" took place with Professional Council of Special Education of the Committee on Education and Science of CIS and the Committee of the RF State Duma on Education and Science.
RPPC Director Araksia Svajyan took part in the conference on behalf of the RA MօESCS.
The topic of the report is "The system of inclusive education and perspectives for further development in Armenia".
Main directions of work:
✦ Systems of special education, regional experience, time requirements.
✦ Inclusive systems of education and psychological-pedagogical support of children with SEN.
✦ Models of comprehensive support of preschool and school children with SEN and their families.
✦ Organizational, educational, methodological, consulting and monitoring support of vocational guidance and training for people with disabilities.
✦ Psychological, pedagogical, medical and social support to children with autism.
✦ Comprehensive medical, psychological-pedagogical rehabilitation of children with cochlear implants.
✦ Socio-cultural rehabilitation in organizations of secondary vocational and higher education.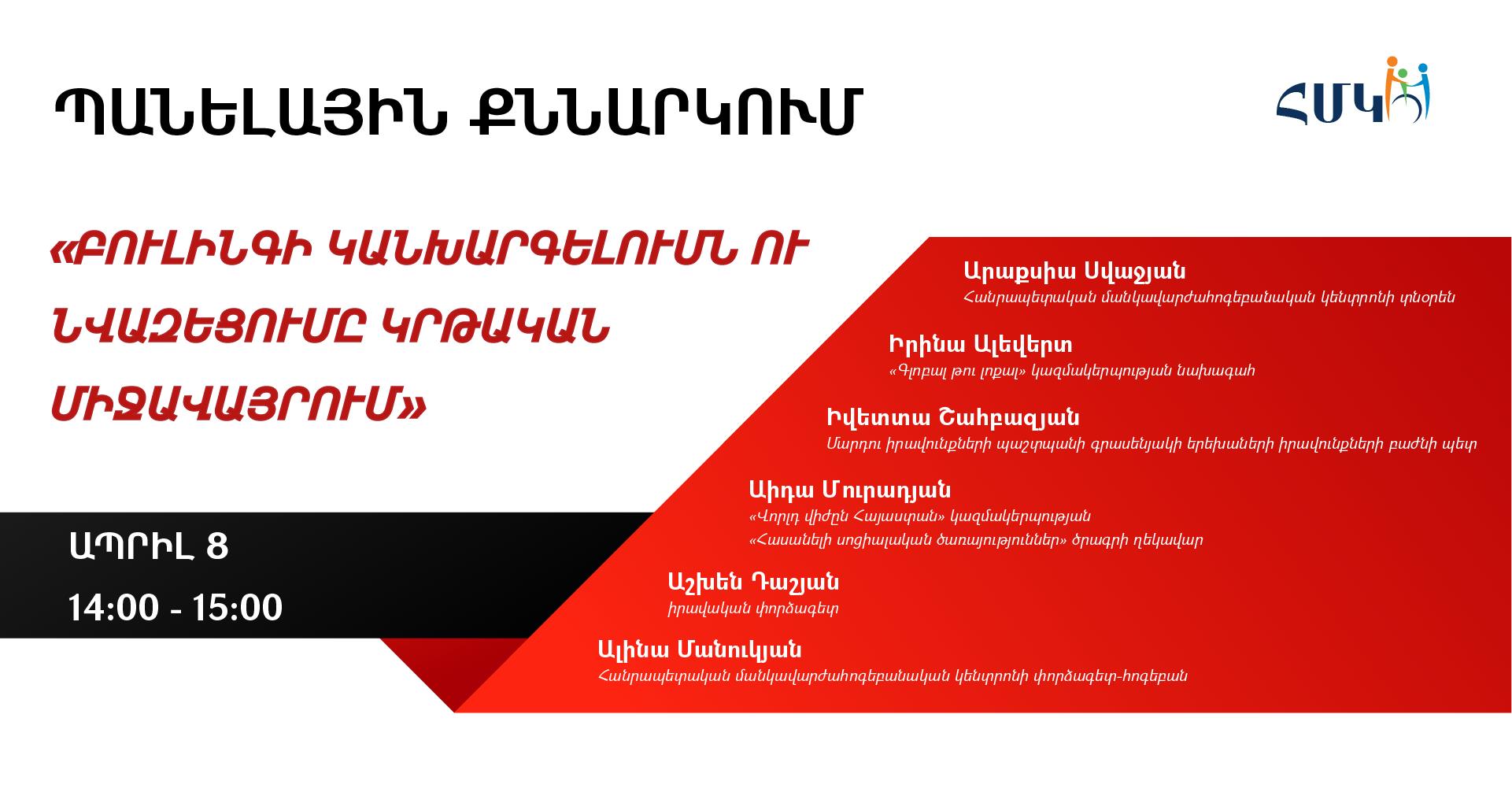 April 7

Hours: 14:00-15:00
Panel discussion will take place at the Republican Pedagogical-Psychological Center
Theme: "Prevention and reduction of bullying in the educational environment"
Discussion topics:
✦ Bullying problems in RA schools
✦ Teachers' responsibilities in reducing and preventing bullying
✦ Bullying laws and regulations
✦ Systematic approaches for reducing bullying in the educational environment.
Speakers
✦ Araksia Svajyan-Director of the Republican Pedagogical-Psychological Center
✦ Irina Alewert-Director of "Global to Local"
✦ Ivetta Shahbazyan- Human Rights Defender's Office, Head of Children's Rights Department
✦ Aida Muradyan-World Vision Armenia, "Accessible Social Services Program" Manager
✦ Ashkhen Dashyan- legal expert
✦ Alina Manukyan- Republican Pedagogical-Psychological Center specialist, psychologist
The event will take place within the framework of the "Reduction of Bullying in Public Schools" program implemented in cooperation with the Republican Pedagogical- Psychological Center and "Global to Local" organization.
The project is implemented in cooperation with the Friedrich Ebert Foundation.
You can ask your questions related to the topic in advance or during the event by writing on our Facebook page.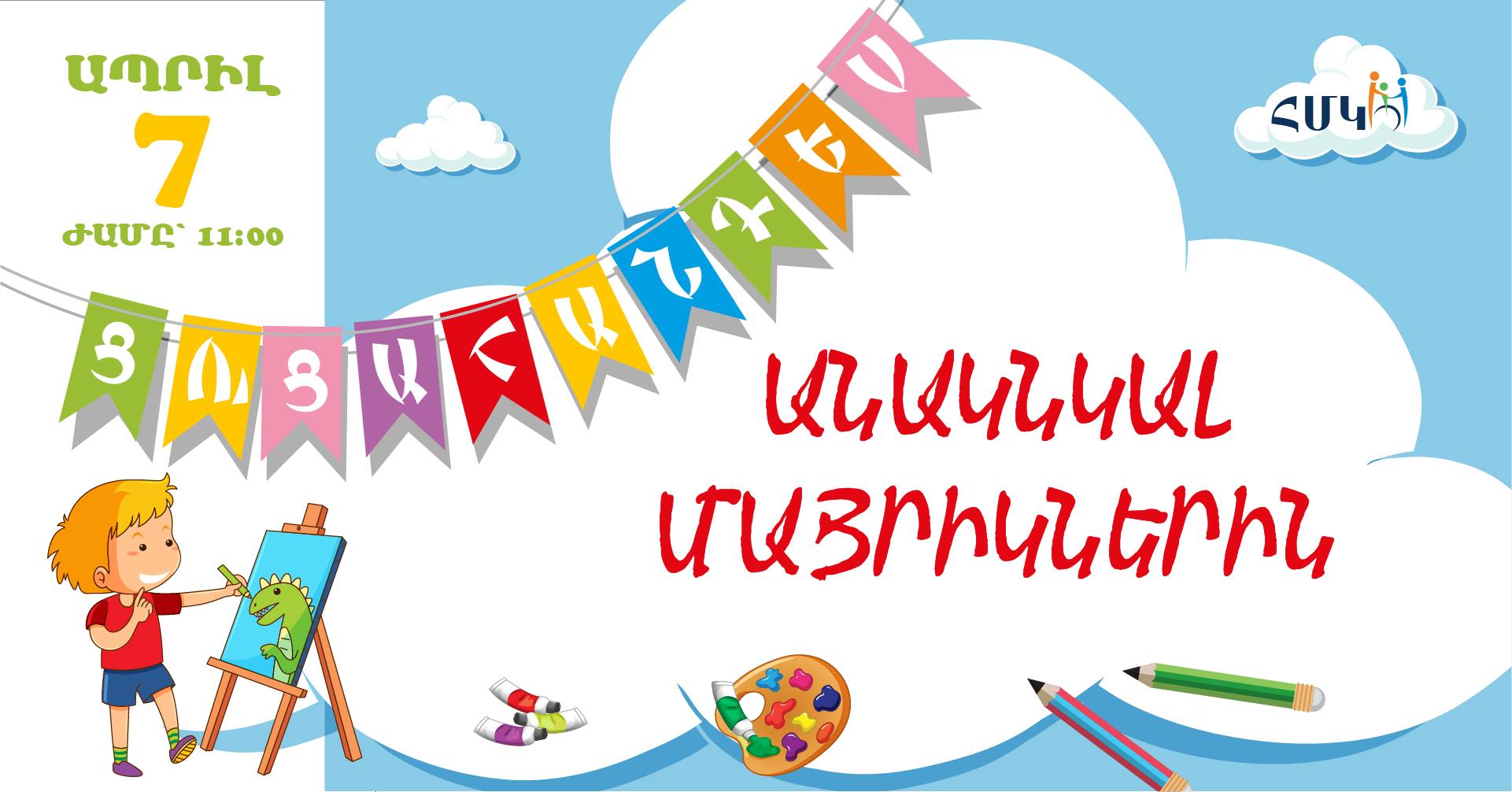 We will be honored if you find time to be present at the opening ceremony of the Exhibition entitled "SURPRISE FOR MOTHERS" on
April 07,
11:00 am
Many artists, parents, and other honorable authorities will be guests of the event. Among the guests will be the RA Honored Artist – Anna Harutyunyan.
Children with developmental disabilities will present their paintings, which will be a special gift and psychological encouragement for their parents….
LOOKING FORWARD TO SEE YOU AT OUR "HOME", WELCOME !!!
Our address is: 12 Kajaznuni Street, Yerevan
Email: info.hmkentron@gmail.com
Republican Pedagogical-Psychological Center
Mentors involvement competition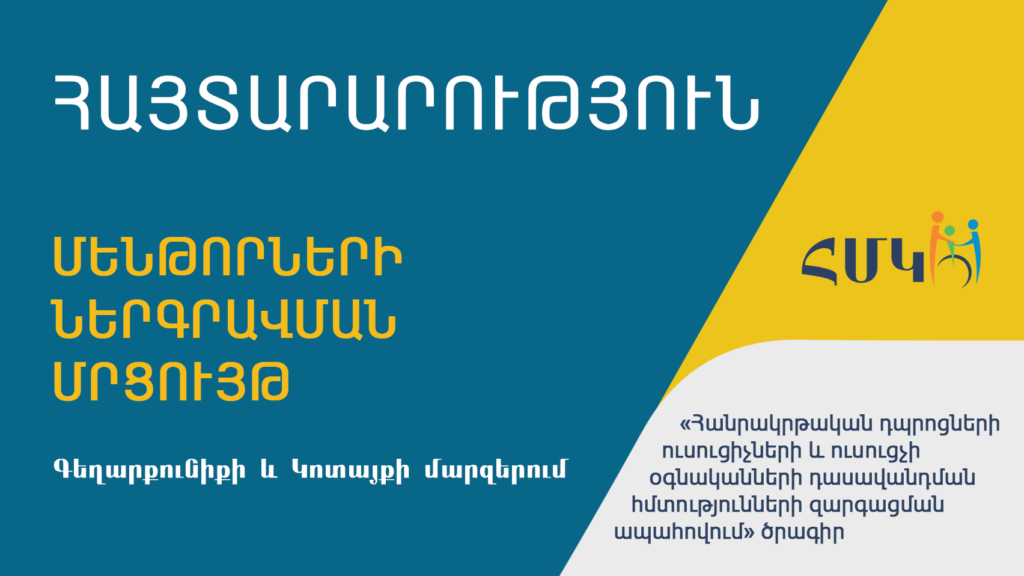 The Republican Pedagogical-Psychological Center announces a competition for the involvement of mentors in Gegharkunik and Kotayk regions within the framework of the "Ensuring the development of teaching skills of secondary school teachers and teacher assistants" program, which is implemented with RA MoESCS.
In 2020, Kotayk and Gegharkunik regions have made a transition to universal inclusive education, within the framework of which all schools in the above-mentioned regions will provide inclusive education. A key precondition for the effective organization of this process is the development of teacher's pedagogical skills.
The aim of the "Ensuring the Development of Teaching Skills for Teachers and Teacher Assistants" program implemented by the RPPC is to contribute to the development of the capacity of secondary school teachers through continuous mentoring, promoting the full inclusion of children with SEN, and effective education.
As a result of the competition, 10 teachers will be selected in each region, who will participate in the training courses organized by RPPC. Also, they will use the mentoring support module and tools, implement a continuous support program (training courses and mentoring support) for other secondary school teachers.
One of the main preconditions for applying to the program is:
✦ Having a higher pedagogical education
✦ Being a resident of Gegharkunik or Kotayk region
✦ Being an active teacher
✦ Having at least 5 years of work experience
✦ Having the ability to communicate and work in a team
✦ Accessibility and flexibility to conduct training courses in the regions
✦ Knowledge of computer programs (Word, Excel, Powerpoint, etc.) Knowing at least one foreign language
✦ Having organizational, quick orientation, and initiative skills
Interested candidates can send their CV and cover letter to
info.hmkentron@gmail.com
until December 30th.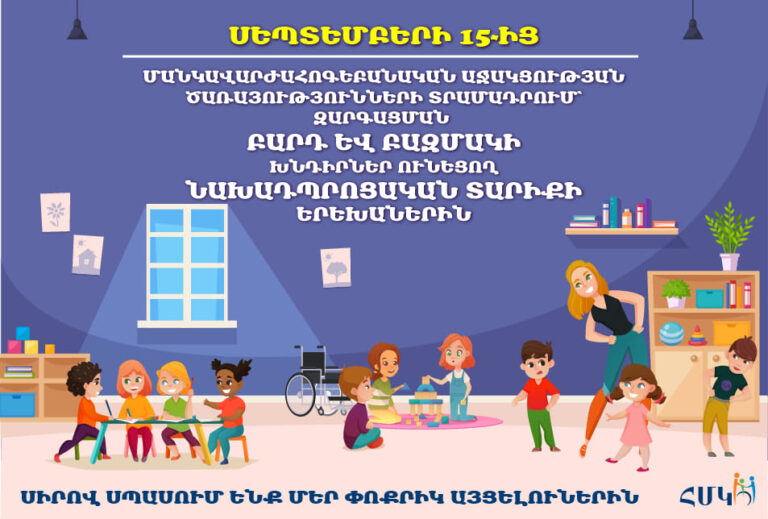 The Republican Pedagogical-Psychological Center resumes the provision of the following services of pedagogical and psychological assistance:
✦ speech therapist
✦ ocial teachers
✦ psychologist
✦ art therapy
✦ dance therapy
These services are intended for preschool children with complex and multiple problems. Children are recruited for the 2020-2021 academic year. Interested parents are free to visit REPUBLICAN PEDAGOGICAL-PSYCHOLOGICAL CENTER. Contacts for registration: (010) 559-451 Adress: Kajaznuni 12, Yerevan We are waiting for our little visitors.