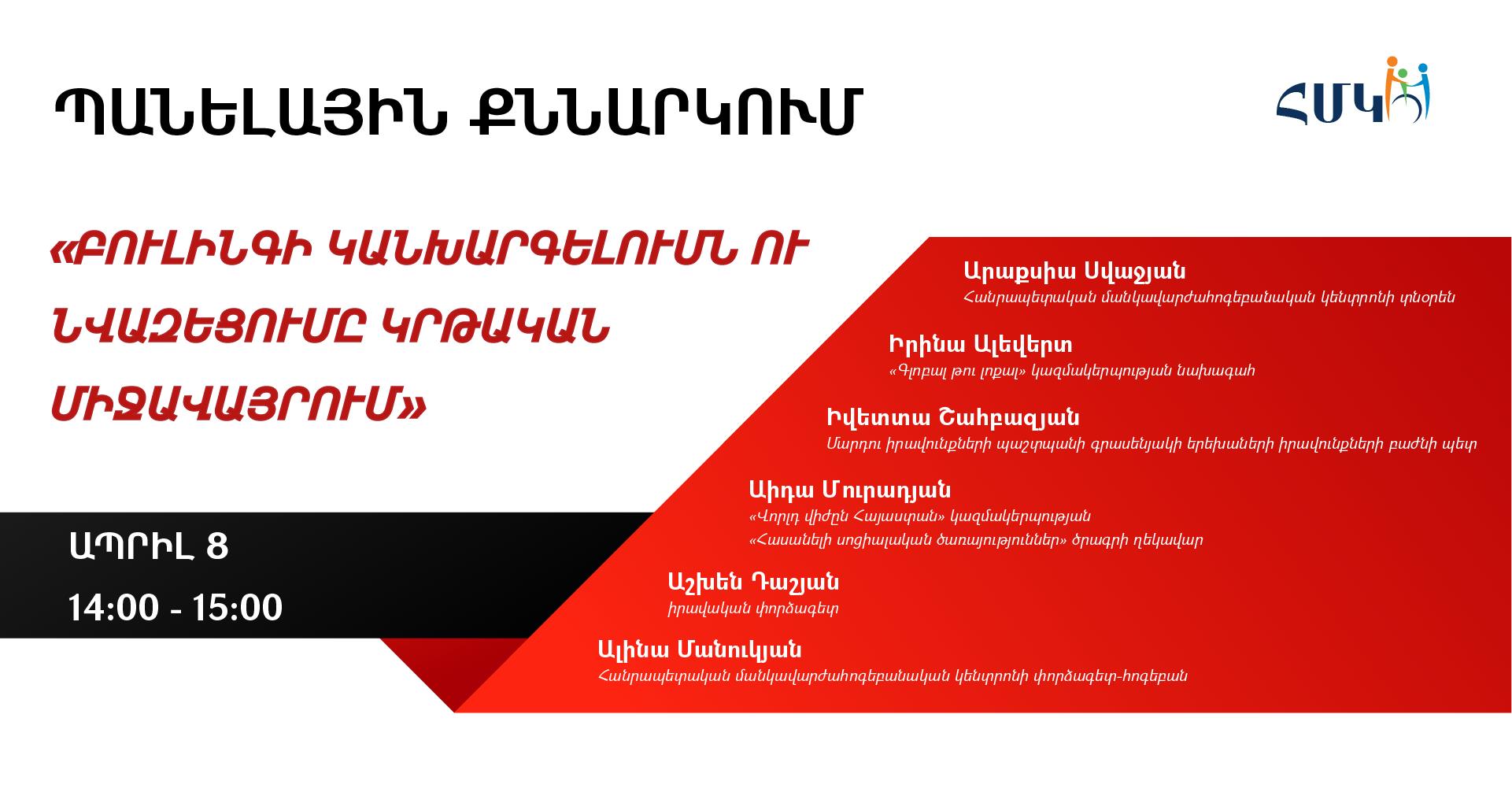 April 7

Hours: 14:00-15:00
Panel discussion will take place at the Republican Pedagogical-Psychological Center
Theme: "Prevention and reduction of bullying in the educational environment"
Discussion topics:
✦ Bullying problems in RA schools
✦ Teachers' responsibilities in reducing and preventing bullying
✦ Bullying laws and regulations
✦ Systematic approaches for reducing bullying in the educational environment.
Speakers
✦ Araksia Svajyan-Director of the Republican Pedagogical-Psychological Center
✦ Irina Alewert-Director of "Global to Local"
✦ Ivetta Shahbazyan- Human Rights Defender's Office, Head of Children's Rights Department
✦ Aida Muradyan-World Vision Armenia, "Accessible Social Services Program" Manager
✦ Ashkhen Dashyan- legal expert
✦ Alina Manukyan- Republican Pedagogical-Psychological Center specialist, psychologist
The event will take place within the framework of the "Reduction of Bullying in Public Schools" program implemented in cooperation with the Republican Pedagogical- Psychological Center and "Global to Local" organization.
The project is implemented in cooperation with the Friedrich Ebert Foundation.
You can ask your questions related to the topic in advance or during the event by writing on our Facebook page.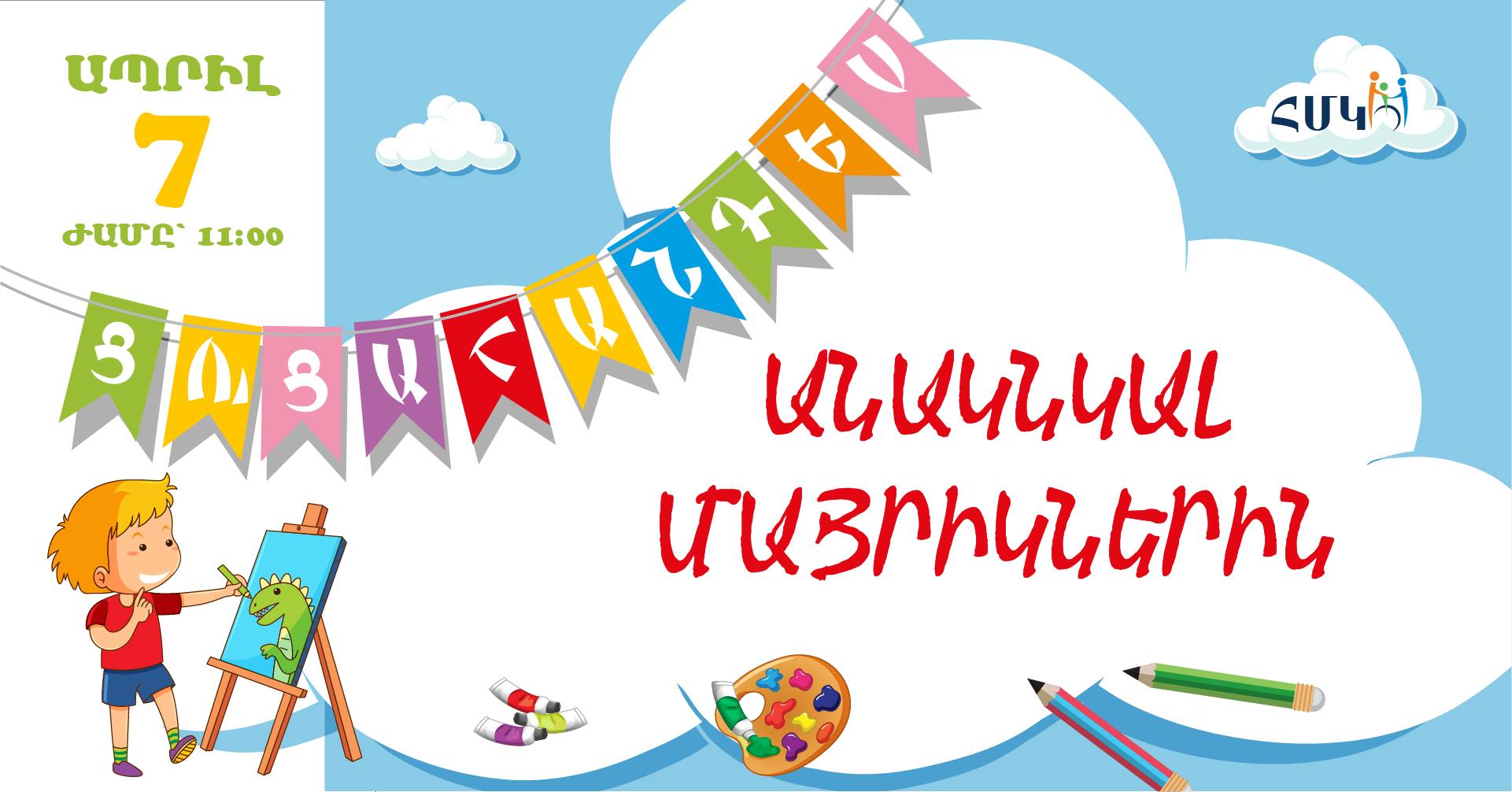 We will be honored if you find time to be present at the opening ceremony of the Exhibition entitled "SURPRISE FOR MOTHERS" on
April 07,
11:00 am
Many artists, parents, and other honorable authorities will be guests of the event. Among the guests will be the RA Honored Artist – Anna Harutyunyan.
Children with developmental disabilities will present their paintings, which will be a special gift and psychological encouragement for their parents….
LOOKING FORWARD TO SEE YOU AT OUR "HOME", WELCOME !!!
Our address is: 12 Kajaznuni Street, Yerevan
Email: info.hmkentron@gmail.com
Republican Pedagogical-Psychological Center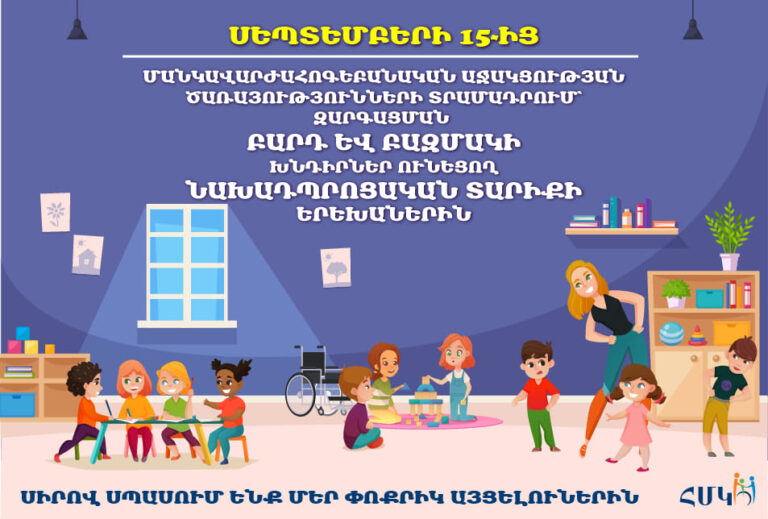 The Republican Pedagogical-Psychological Center resumes the provision of the following services of pedagogical and psychological assistance:
speech therapist
ocial teachers
psychologist
art therapy
dance therapy
These services are intended for preschool children with complex and multiple problems. Children are recruited for the 2020-2021 academic year.
Interested parents are free to visit REPUBLICAN PEDAGOGICAL-PSYCHOLOGICAL CENTER.
Contacts for registration: (010) 559-451
Adress: Kajaznuni 12, Yerevan We are waiting for our little visitors.