Republican Pedagogical-Psychological Center
Հանրապետական
Մանկավարժահոգեբանական
Կենտրոն
September 5, 2023 | WEBINAR ON "STRATEGIES FOR LEARNING SUPPORT IN CHILDREN WITH MULTIPLE DISABILITIES AND THE FRAMEWORK OF INTERVENTION"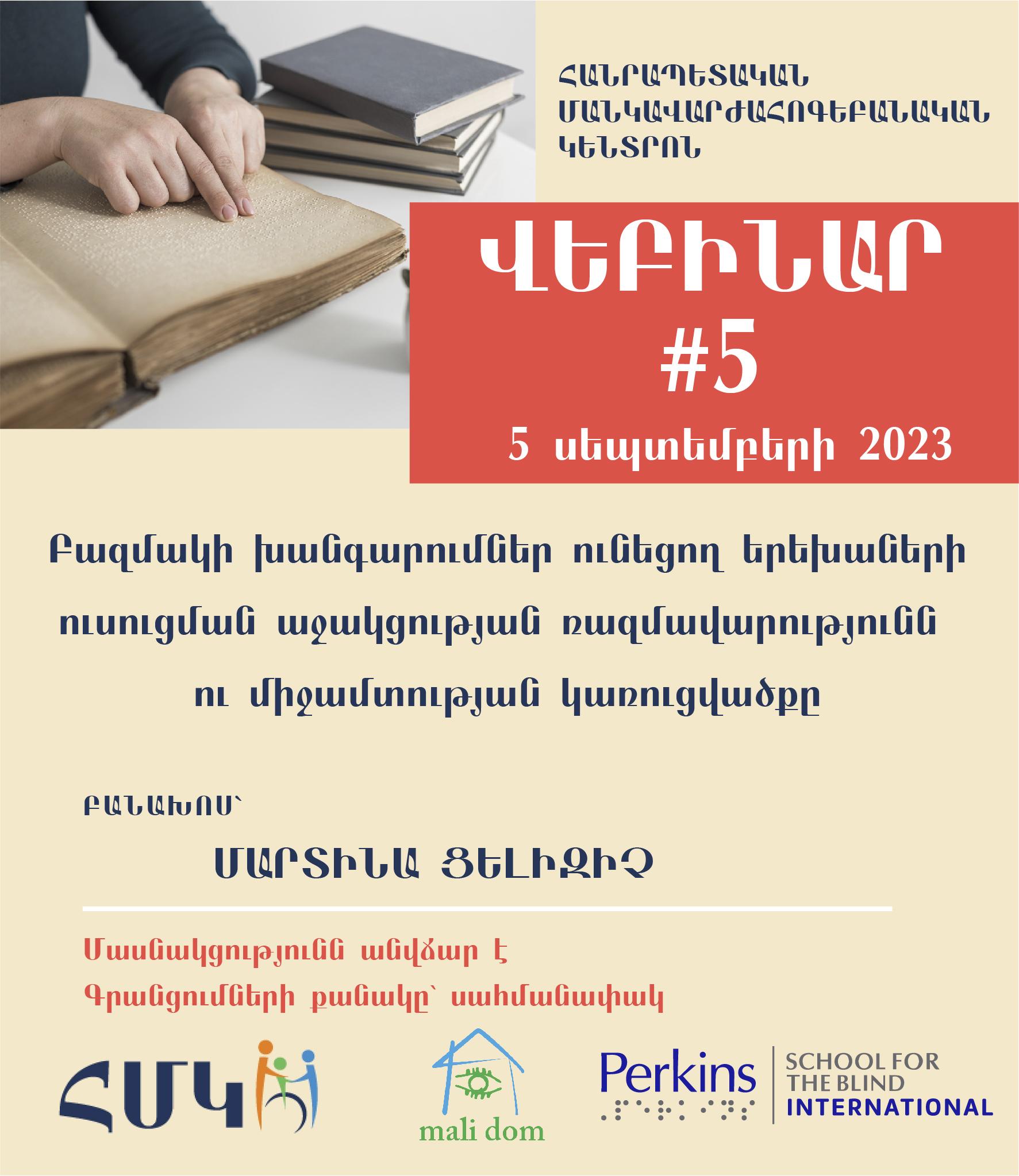 Here is the 5-th webinar conducted in cooperation with the Republican Pedagogical-Psychological Center and "Perkins International".
Topic: "STRATEGIES FOR LEARNING SUPPORT IN CHILDREN WITH MULTIPLE DISABILITIES AND THE FRAMEWORK OF INTERVENTION"
The speaker is an expert from "Perkins International" Martina Celizić․
The webinar will take place on 05.09.2023 at 20:00
To participate, you need to pre-register by 18:00 / 30.08.2023 with the following link:

https://forms.gle/j4FCZgZfaLKx8bSM7
Participation is free and the number of participants is limited.
So, don't miss your chance to participate in the exchange of the best experience with our international partners in Armenian.
ՀՈԳԵԲԱՆԱԿԱՆ ԽՈՐՀՐԴԱՏՎՈՒԹՅՈՒՆ ԵՎ ԱՋԱԿՑՈՒԹՅԱՆ ՏՐԱՄԱԴՐՈՒՄ
The Republican Pedagogical-Psychological Center of MoESCS of RA together with Territorial Pedagogical-Psychological Support Centers provides psychological counseling and support for children and their families forcibly displaced from Nagorno Karabakh.
For more details: +374 10 552495
 Follow the link to learn additional information on RPPC and TPPSCs ⤵️
So, RPPC specialists will provide relevant information regarding pedagogical-psychological and methodical support, legal acts and other spheres of education. We are here to provide an accessible educational environment for all children within the framework of inclusive education. Feel free to contact us!
Starting from the 2023-2024 academic year, the new procedure for funding schools will be launched, which will include a number of systemic changes.
These changes refer to funding approaches for all children and are aimed at ensuring the accessibility of all schools, meeting the individual requirements of children with SEN ➤➤➤
The future of the world is in my classroom today
RPPC | ACCESSIBLE EDUCATION
The Republican Pedagogical-Psychological Center is a state non-commercial organization. The aim of the Center is to increase child's opportunities, accessibility and efficiency in educational process.
The Center organizes training courses and consultations. We also develop methodological guidelines, materials and manuals aimed at increasing the efficiency of the process of organizing inclusive education and improving the professional skills of pedagogical workers involved in this process.
Furthermore, the Center carries out appealing of assessment results, monitoring and public awareness activities. ➤➤➤
We are happy to welcome everyone, who
is from 12 to 15 years old,
loves theater
wants to discover new talents in themselves
wants to overcome the fears and difficulties of socializing
wants to communicate and cooperate with peers
wants to fill his/her day with new emotions
wants to spend interesting time discovering the amazing world of theater art. ➤➤➤