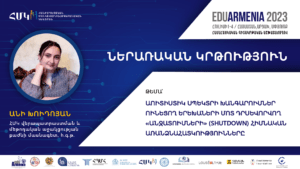 ANI KHUDOYAN
RPPC, specialist of the Department of Training and Methodological Support, ASPU, PhD in Psychology, lecturer/Chair of Psychology
Since 2010, she has been carrying out scientific, educational and pedagogic activities at ASPU. As a training specialist, she is also included in the mandatory training program for teachers of "Tatev" educational complex. Also, Ani works with children with SEN.
She is the author of 7 methodological guidelines for psychologists and pedagogues and wrote 17 scientific articles.
Report topic: "THE MAIN CHARACTERISTICS OF "SHUTDOWN" OF CHILDREN WITH AUTISTIC SPECTRUM DISORDERS".
Research on the four main characteristics of children with autism spectrum disorders: emotional burnout, autistic inertia, outbursts, and shutdowns (BIMS) is almost non-existent in the current psychological literature; while the above-mentioned problems are often the cause of difficulties in the development of the child's cognitive, emotional and behavioral spheres.
Above mentioned main features need in-depth research, highlighting the causes of their manifestation and identifying ways to overcome them are important in organizing effective work with autistic children.